My #LTYMDC Cast Spotlight
In the upcoming weeks, you can find cast spotlights (Q&As) with each of this year's DC 2014 cast members on the LTYM blog. This week, my interview is being featured on the site, so I hope you'll come over and say "hello."
Along with learning about why I always include my middle initial in author credits, through reading my spotlight, you will learn other interesting things, things like my hopes for my daughters and about the moment in which I learned to see my mom as not just a mom, but as a woman, a human being, too. I hope I've peaked your interest with this and that you'll stop by.
In other news, tickets for the show are now on sale. The show will be on Mother's Day, May 4, 2014 at 2 PM. It will be held at The Synetic Theater in Crystal City, VA. You can buy tickets here. If you are planning to come, please let me know so that I can imagine you in the audience during my reading! 🙂
That's all for now. Happy Thursday!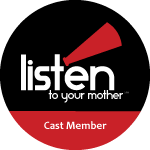 Tags: ltymdc